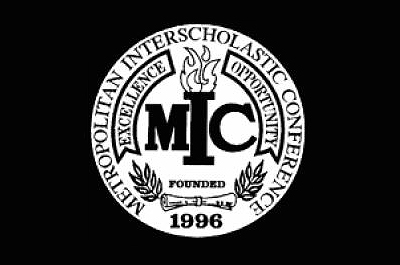 The Metropolitan Interscholastic Conference and the ISC Sports Network today are announcing a new partnership that will extend to 40 televised and webcast events during the 2019-20 academic year.
"Expanding coverage of our conference schools and programs with ISC Sports Network is an exciting step for the Metropolitan Interscholastic Conference," says Carmel Athletics Director Jim Inskeep. "ISC has proven itself as a great production team with many of the top announcers in high school sports. They are committed to delivering local sports and adding our schools to the schedule this fall will be a win for fans of education-based athletics."
"This is a wonderful opportunity for us at the ISC Sports Network," stated ISC Sports Network Vice President Greg Rakestraw. "The MIC has become one of the top athletic leagues in the country at the high school level. This is a great chance for our network to be affiliated with such a great group of student-athletes, coaches, administrators, and fans. We look forward to bringing the best matchups each week in a variety of sports to a statewide audience on a TV basis, but also from anywhere in the world that can watch both live and on-demand online."
Starting in the Fall of 2019, ISC Sports Network will carry the MIC Game of the Week in football each Friday night. A total of 40 events will be covered for the conference including boys and girls basketball games, MIC swimming and wrestling championship events, and selected other events.
The MIC Game of the Week on ISC will debut on August 23 with the traditional MIC powerhouse kickoff matchup featuring defending state champion Warren Central playing host to Center Grove. That game will be seen live on Comcast Local 81 statewide, and on numerous other cable providers across the state that carry the ISC Sports Network. That game and the remainder of the schedule will also be available via ISCSportsNetwork.com, and the ISC Sports Network app, plus through services like Roku, Amazon Fire, Apple TV, and Google Play.
There will be a football telecast each week of the regular season and during the four weeks of postseason play from the sectional through the semi-state round. Last year, a pair of MIC schools in Warren Central and Carmel reached the state finals, and a MIC school has claimed a football state title in each of the six previous years since the formation of the 6A class for the 2013 fall season.
In addition to a full football slate, the MIC-ISC partnership will extend to both the boys' and girls' basketball season as well. There will be a minimum of 20 games televised featuring a pair of MIC opponents. Once again, the MIC was represented by two schools in the boys' 4A title clash between Carmel and Ben Davis, and also had a member school in Lawrence North reach the girls' title contest. There will also be additional opportunities for other sports to be featured on the MIC Game of the Week. Those sports and games will be determined at a later date, but could include matches from sports such as volleyball, soccer, softball, baseball, etc.
The Metropolitan Interscholastic Conference was formed in 1996 and quickly became one of the preeminent scholastic athletic leagues in the country. In the last academic year, MIC teams took home 11 state championship crowns. Conference members include Ben Davis, Carmel, Center Grove, Lawrence Central, Lawrence North, North Central, Pike, and Warren Central.
ISC Sports Network is Indiana's leading producer of high school sporting events, with a full-service, 24/7/365 sports channel dedicated primarily to Indiana sports of all kinds. Currently, the ISC Sports Network is available on a full-time basis on eight cable providers across the state, in addition to airing multiple games and shows through Xfinity's Local 81 channel that is seen in over 300,000 homes across the state. Announcers featured on the channel include Greg Rakestraw, Lance Scheib, Mark Jaynes, Pete Smith, Bob Lovell, Mike Broughton, Jan Boser and many other familiar names and voices to sports fans in the Hoosier state. All ISC Sports Network content can also be found at ISCSportsNetwork.com, the ISC Sports Network app, and through services such as Amazon Fire, Roku, and Apple TV.
The Metropolitan Interscholastic Conference will continue to be covered by the MIC Network with a second conference football game webcast each week. MIC Network broadcasts will be available on their own platform and can now also be viewed on the ISC Sports Network.