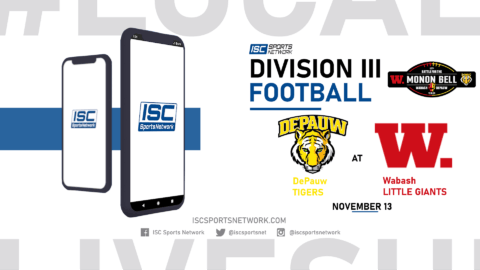 Are you trying to figure out how to watch the renewal of one of college football's greatest rivalries this Saturday? Good news! We've created this "How To" for all the ways you can watch the 127th Monon Bell Classic on ISC Sports Network!
TELEVISION
The game will be carried on ISC Sports Network and our partners at MyINDY-TV 23 in Central Indiana and Comcast Xfinity 81 (Indianapolis, Fort Wayne, Lafayette DMAs). ISC TV is available through ten cable providers across the state of Indiana – click here for a full list of providers.
STREAM
DePauw-Wabash will be streamed for FREE nationwide on ISCSportsNetwork.com! The stream will start automatically when the broadcast begins around 1 PM ET, so you will not need to have an ISC Sports Network subscription to view it. WISHTV.com is also streaming the game through their site.
The game is available on YouTube through our ISC Sports Network  channel. If you're unable to access our ISC Sports Network app on your Smart TV, your best best is to watch the game via your YouTube app. Most Smart TVs have it automatically on the shortcut bar (or a button on your remote). After opening YouTube, just search "ISC Sports Network" to find our channel. Here is the direct link. If you subscribe, you'll be alerted when the YouTube live stream begins.
APP
You can watch the game for FREE via the ISC Sports Network app! You can download the app in the iTunes Store or Google Play. You can also download our app on Roku, Amazon Fire, Android, AppleTV, and Chromecast.
SOCIALS
You can also watch the 127th Monon Bell Classic through ISC Sports Network's Facebook and Twitter pages. Both will start live streams shortly before the beginning of the game broadcast.
If you have any other questions, please feel free to reach out to us through the ISC Contact Form and we'll be sure to help!