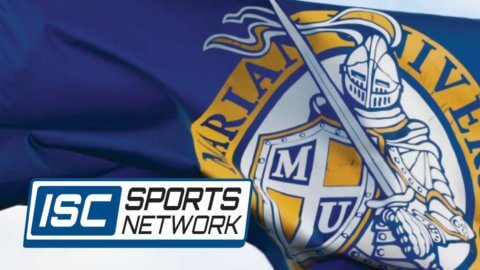 The ISC Sports Network and Marian University Athletics have announced a multi-sport broadcast package for the 2021-2022 athletics season. ISC will air 23 of the Knights' regular season contests, which began on Saturday September 4 with the Marian football regular season kickoff.
"I'm very excited about expanding our partnership with ISC," said Steve Downing, Director of Athletics. "The Marian brand has grown, especially in the last few years, and ISC allows us to take that even further by reaching a wider audience to increase our fan base. Last year's partnership was a great opportunity for us to provide an excellent product for soccer, basketball, and volleyball viewers, and we are excited to continue the partnership again this year."
ISC Sports Network has been a proud partner of Knights football since 2015, and has aired select volleyball and basketball contests since 2018. Last year, ISC partnered with Marian to air 41 Marian home games and 45 overall events for Marian, including the Crossroads League Tournament games for volleyball, men's basketball, women's basketball, and women's soccer, as well as the entirety of the NAIA Opening Rounds in women's basketball, volleyball and women's soccer.
This season, ISC will cover the following teams in the regular season: women's soccer (1), men's soccer (2), volleyball (2), football (5), women's basketball (6), and men's basketball (7). Additionally, ISC will stream all postseason contests hosted by Marian, including Crossroads League Tournament games and NAIA playoff games. An announcement will be made later in the year to announce the plan for spring sporting events, following the releases of their schedules.
"We are thrilled to continue our partnership with Marian University and the Knights again this season," said Greg Rakestraw, Vice President of ISC Sports Network. "Marian has become one of the top athletic programs in the NAIA ranks and in all of small college athletics, and we are ecstatic to play a small role in that success. With no football being played last fall, the folks at Marian extended coverage to sports like soccer and volleyball, and we're overjoyed to continue that relationship this season. And we can't wait for the spring to bring our cameras to Marian baseball and softball for the first time."
All games will be aired live and archived on the ISC platform. The ISC Sports Network is available on cable television lineups in select parts of the state, as well as their website iscsportsnetwork.com. The ISC Sports Network is available on mobile apps and OTT devices through Apple, Android, Amazon, and Roku.
MARIAN ATHLETICS ON THE ISC SPORTS NETWORK:
September 4
1:05 PM
Football
Marian vs. Tiffin
September 14
7 PM
Men's Soccer
Marian vs. Aquinas
September 15
3 PM
Women's Soccer
Marian vs. Northwestern Ohio
September 15
7 PM
Volleyball
Marian vs. St. Francis
September 25
1:05 PM
Football
Marian vs. Missouri Baptist
October 16
6:05 PM
Football
Marian vs St. Francis
October 23
1:05 PM
Football
Marian vs Concordia
October 23
7 PM
Men's Soccer
Marian vs Goshen
October 29
8 PM
Men's Basketball
Marian vs. Wilberforce
October 30
2 PM
Volleyball
Marian vs. Bethel
October 30
8 PM
Men's Basketball
Marian vs. Simmons College
November 6, 10, 13
TBA
Men's Soccer
Crossroads League Tournament
November 6, 10, 13
TBA
Women's Soccer
Crossroads League Tournament
November 6, 10, 13
TBA
Volleyball
Crossroads League Tournament
November 13
1:05 PM
Football
Marian vs Lawrence Tech
November 14
TBD
Men's Soccer
Crossroads League Tournament
November 16
7 PM
Women's Basketball
Marian vs IU-East
November 18 & 20
TBA
Women's Soccer
NAIA Opening Round
November 20
1:05 PM
Football
NAIA FCS First Round
November 20
TBA
Volleyball
NAIA Opening Round
November 20
1 PM*
Women's Basketball
Marian vs Indiana Wesleyan
November 20
3 PM*
Men's Basketball
Marian vs Indiana Wesleyan
November 27
TBA
Football
NAIA FCS Quarterfinals
December 4
TBA
Football
NAIA FCS Semifinals
January 8
1 PM
Women's Basketball
Marian vs Huntington
January 8
3 PM
Men's Basketball
Marian vs Huntington
January 29
1 PM
Women's Basketball
Marian vs Taylor
January 29
3 PM
Men's Basketball
Marian vs Taylor
February 8
7 PM
Men's Basketball
Marian vs St. Francis
February 9
7 PM
Women's Basketball
Marian vs St. Francis
February 19
1 PM
Women's Basketball
Marian vs Spring Arbor
February 19
3 PM
Men's Basketball
Marian vs Spring Arbor
February 22, 25, 28
TBA
Women's Basketball
Crossroads League Tournament
February 23, 26,
March 1
TBA
Men's Basketball
Crossroads League Tournament
March 11 & 12
TBA
Basketball
NAIA Opening Round