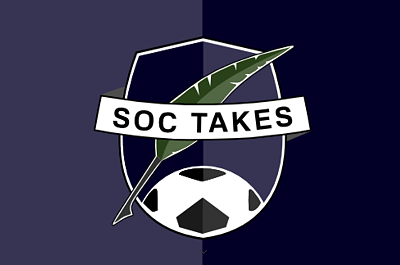 A new soccer-themed television show will soon invade digital platforms and Indiana airwaves.
Soc Takes and the ISC Sports Network have joined forces to launch "Soc Takes TV," an all-soccer television program presented by Sogility that will cover the sport nationally and globally while maintaining a heavy local focus. Soc Takes co-founders Kevin Johnston and Nipun Chopra will co-host the show, with ISC Sports Network vice president Greg Rakestraw serving as the executive producer.
"When 'Rake' calls you up and wants to work together, you kind of just drop everything and say yes," Johnston said. "Seizing the opportunity to work with someone as talented and experienced as Greg was one of the simplest decisions we've ever made. He's done so much for the game around here — and all Indiana sports, for that matter."
Rakestraw is the voice of the Indy Eleven for MyINDY-TV and hosts his own weekly radio show, "Soccer Saturday," for local ESPN affiliate 1070 The Fan. He also provides Indianapolis Colts postgame coverage for the station and commentates for the IHSAA Champions Network. Rakestraw joined the ISC Sports Network in 2018.
Johnston and Chopra launched SocTakes.com, an Indianapolis-based soccer news site, in February 2017 and together host their own podcast, the "Soc Takes Pod." The website covers the same spectrum that "Soc Takes TV" will, i.e., all things soccer with a local emphasis.
"One of the central goals of Soc Takes is to grow awareness of the sport of soccer, both here in Indiana and nationally," Chopra said. "Our collaboration with ISC Sports Network and Sogility is a natural extension of the same. We look forward to bringing you quality soccer video content and analysis."
Chopra is a former contributor at FourFourTwo.com and regular on the Manchester United-centered "United in Focus" podcast. Additionally, he co-hosts a soccer videocast entitled "Lower League America" with SiriusXM FC's Jason Davis as part of a collaboration between Soc Takes and Compass Football.
Johnston covers professional and amateur soccer as a freelance correspondent for The Indianapolis Star, including working the part-time Indy Eleven beat since 2016. He also lends his hand to the IndyStar's high school football, high school basketball and boxing coverage.
The show's title sponsor, Sogility, is a recently launched soccer-specific training facility located just north of Indianapolis in Westfield. "Soc Takes TV" will be filmed on-site at Sogility.
ISC Sports Network is currently available on Apple TV, Android TV, Roku and Amazon Fire TV, as well as directly from ISCSportsNetwork.com. It's also carried by numerous local cable providers in select Indiana markets.
The show's topics will include the Indy Eleven, in-state college, high school and club soccer, MLS, USL, top European leagues and international soccer. "Soc Takes TV" will begin filming in mid-November and air shortly thereafter, with new episodes produced monthly.