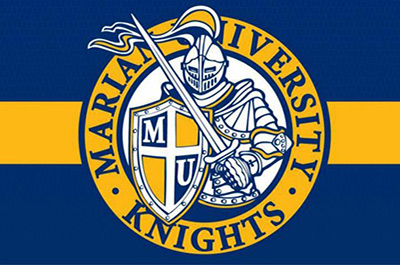 The ISC Sports Network and Marian University Athletics have announced a multi-sport broadcast package for the 2020 fall season. ISC will air 15 of the Knights' top contests, beginning with volleyball and women's soccer Crossroads League conference matches on September 23.
"I'm very excited about expanding our partnership with ISC," said Steve Downing, Director of Athletics. "The Marian brand has grown, especially in the last few years, and ISC allows us to take that even further. It's a great opportunity for us to provide an excellent product for soccer and volleyball viewers, and offers a great platform for our student-athletes and coaches."
ISC Sports Network has been a proud partner of Knights football since 2015, and has aired select volleyball and basketball contests since 2018. This partnership will grow to include Marian men's soccer, the 2019 NAIA national runner-up Marian women's soccer, and the 2019 NAIA National Champions Marian volleyball.
"The partnership with ISC will not only benefit our student-athletes, but future Knights as well," said Ashlee Pritchard, Head Volleyball Coach and 2019's NAIA Coach of the Year.
"Marian University is an outstanding partner of ISC and the opportunity to produce more for the Knights was an easy decision," said Greg Maish, President of ISC Sports Network. "We are grateful to expand into volleyball and soccer and look forward to providing ISC broadcast coverage to Knights events this fall."
All games will be aired live and archived on the ISC platform. The ISC Sports Network is available on cable television lineups in select parts of the state, as well as their website iscsportsnetwork.com. The ISC Sports Network is available on mobile apps and OTT devices through Apple, Android, Amazon, and Roku.
MARIAN ATHLETICS ON THE ISC SPORTS NETWORK
| | | | |
| --- | --- | --- | --- |
| September 23 | 7 PM | Women's Soccer | Marian vs. Taylor |
| September 23 | 7 PM | Volleyball | Marian vs. Grace |
| October 3 | Noon | Volleyball | Marian vs. Bethel |
| October 3 | 3 PM | Men's Soccer | Marian vs. Bethel |
| October 10 | 2 PM | Women's Soccer | Marian vs. Grace |
| October 10 | 6 PM | Football | TBD |
| October 14 | 7 PM | Volleyball | Marian vs Taylor |
| October 17 | 2 PM | Women's Soccer | Marian vs. Mt. Vernon Nazarene |
| October 21 | 7 PM | Volleyball | Marian vs. St. Francis (Ind.) |
| October 28 | 7 PM | Men's Soccer | Marian vs. Huntington |
| October 31 | 3 PM | Volleyball | Marian vs. Indiana Wesleyan |
| October 31 | 7 PM | Men's Soccer | Marian vs. Spring Arbor |
| November 14 | TBD | Volleyball | Crossroads League Tournament |
| November 14 | TBD | Women's Soccer | Crossroads League Tournament |
| November 14 | TBD | Men's Soccer | Crossroads League Tournament |