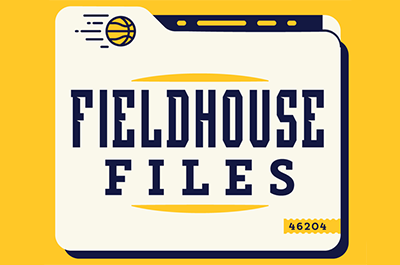 One of the most knowledgeable and respected voices on the Indiana Pacers has a new home on ISC Sports Network. Scott Agness, who previously has covered the team for Pacers.com and The Athletic, will be delivering the Fieldhouse Files Daily Download exclusively on ISCSportsNetwork.com.
"This is a great addition to the ISC Sports Network family. Scott has worked for many years in covering the Pacers and is very connected to the day-to-day happenings of all things Blue and Gold," said Greg Rakestraw, Vice President of ISC. "This is an exciting next step for us at ISC to add this level of daily coverage for our subscribers."
Agness will use the Fieldhouse Files Daily Download to keep viewers up-to-date with the everyday happenings of the team as they try to return to the NBA Playoffs this Spring. Throughout the rest of the 2020-21 season, Pacers fans can purchase exclusive access to Scott's news, analysis, and opinion of their favorite team. It will be a separate $5.99/monthly add-on from the regular ISC Sports Network subscription.
"There's a thirst for more Pacers coverage and I look forward to providing just that, in video form, in collaboration with ISC Sports Network," he said. "I'm grateful for Greg Maish, Greg Rakestraw and the ISC team for making this possible. Viewers can expect a daily video update on the Pacers, insights from my reporting and observations from attending games. The daily download will be a snapshot of what's happening with the team and should make it even easier for fans to follow along."
The Fieldhouse Files Daily Download is available now on ISCSportsNetwork.com.
More about Scott Agness:
Scott Agness is in his ninth season as a beat reporter covering the Indiana Pacers and has been around the Fieldhouse since 2003. He operates FieldhouseFiles.com and hosts the Fieldhouse Files podcast. In addition to his Pacers coverage, Scott serves as the play-by-play voice of IUPUI women's basketball. Agness is a graduate of Indiana University.
You can follow Scott on Twitter and Instagram, @ScottAgness.
For more information, contact the ISC Sports Network at info@iscsportsnetwork.com.
ISC Sports Network is a leading producer of high school, college, and professional sporting events, with a full-service, 24/7/365 sports channel dedicated primarily to sports of all kinds. Currently, the ISC Sports Network is available on a full-time basis on ten cable providers across the state, in addition to airing multiple games on MyIndyTV 23 in Indianapolis and Xfinity's Local 81 across the state. ISC also is expanding into Ohio in 2021. All ISC Sports Network content can also be found at ISCSportsNetwork.com, the ISC Sports Network app, and through services such as Amazon Fire, Roku, and Apple TV.